All SOSC classes and services have moved online through the Fall Term
Due to the circumstances surrounding COVID-19, all faculty and staff in the Department of Social Science will be working remotely and are not available for in-person meetings at Keele Campus. The Department is fully committed to ensuring our students get the support they need by various electronic methods. For more information, please visit our
COVID-19 information page
.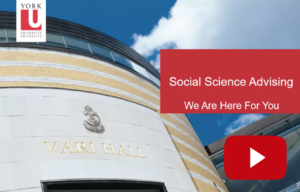 Watch our video: Social Science Advising – We are here for you.
Forms and Resources
Requests to Enrol or Switch
A completed Request to Enrol or Request to Switch Form must be submitted online by the student when the form links become available periodically.
An enrolment spot will be opened only is there is space available in the course. If the course or tutorial is full - or if the room is at its maximum capacity - permission cannot be granted.