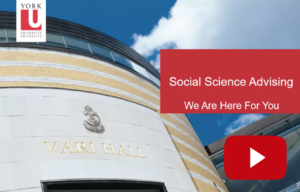 Watch our video: Social Science Advising – We are here for you.
Due to the COVID pandemic, the Department of Social Science is currently offering academic advising and general inquiries services online via Zoom for the following undergraduate Social Science (SOSC) programs:
African Studies (AFST)
Business and Society (BUSO)
Criminology (CRIM)
Foundations
Health and Society (HESO)
Interdisciplinary Social Science (ISS)
International Development Studies (IDS)
Law and Society (LASO)
Urban Studies (URST)
Work and Labour Studies (WKLS)
You can access support by clicking on the Zoom link and registering (filling out your contact information and a few screening questions to help get things started).
Fall Term 2020 Availability (click on the date below to register):
Please note this is a drop-in session and students will be seen on a first-come, first-served basis.
Tuesdays: 10:00 - 12:00 (Nov. 24, Dec. 1, 8, 15, & 22)
Wednesdays: 14:00 - 16:00 (Nov. 25, Dec. 2, 9, & 16)
Thursdays:  14:00 - 16:00 (Nov. 26, Dec. 3, 10, & 17)
You may also send general inquiries and academic advising questions to socsci@yorku.ca.